Welcome to the Stamp Simply Spring Release Blog H
op!
I don't know about where ya'll are living, but here in Colorado mother nature has been giving us a taste of spring for the last few weeks.  Oddly warm temperatures for the most part and just a few flakes of the white stuff thrown in for good measure.  There are even trees blossoming!
~*~*~*~
The spring release is over the top gorgeous.  For the first time ever, Stamp Simply exclusive dies!  I'll give you a little peek
You can view the entire release HERE.
~*~*~*~
~*~*~*~
~*~*~*~
These sets have an amazing array of sentiment/verses for the insides of your cards, too!
I used:
Carte Bella – So Note
Spellbinders – A2 Scalloped Borders One
Melissa Frances Pearls – Cream
May Arts Baker's Twine – yellow/white
Thermoweb 3D Foam Squares – 1/4″ White
Spectrum Noir Ultra Smooth Premium Cardstock White – 8.5×11
other:
Spectrum Noir markers
~*~*~*~
BLOG HOP LINK LIST
Holly McMillen – you are here
Check out Darsie's awesome video on lining up dies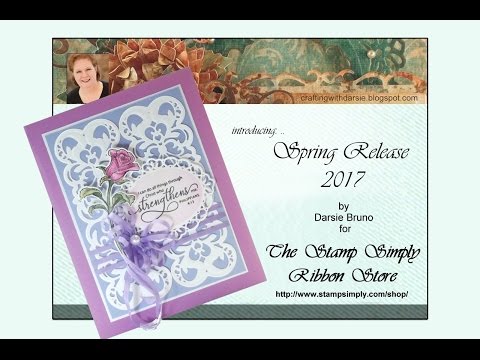 ~*~*~*~
Thanks for stopping by!
~ Holly
9 Responses to "~ Stamp Simply Spring Release Blog Hop ~"
Precious design Holly! Love your colorway and fresh, pretty touches!

So lovely, Holly!! I love your clean style and the pretty touches you add!

Just love this! It's so clean, fresh and classy!!! Totally beautiful. Thank you so very much!!!

Hello, sweet friend! I love your beautiful design! It is so elegant and I love that layout! (I always feel layout-challenged!) Absolutely stunning! xo

on 03 Mar 2017 at 16:05

5

Denise Bryant

Beautiful layering and details on this lovely card! The rose is gorgeous! Excited about this lovely release!

on 03 Mar 2017 at 19:57

6

Sue LD

Beautiful–I like the scalloped edge.

on 04 Mar 2017 at 03:27

7

Sabrina Radican

OH WOW!!!! So breathtakingly beautiful!!!

on 04 Mar 2017 at 06:17

8

ANN ROBBINS

Very pretty card, Holly! Love the soft yellow. I just might have to order this rose and die combo. Awesome!
Hugs
Ann Robbins

on 04 Mar 2017 at 11:56

9

Linda B

Such a fantastic card, love how the rose looks as tho it's being presented. Beautiful. Thank you and God bless.
Leave a Reply